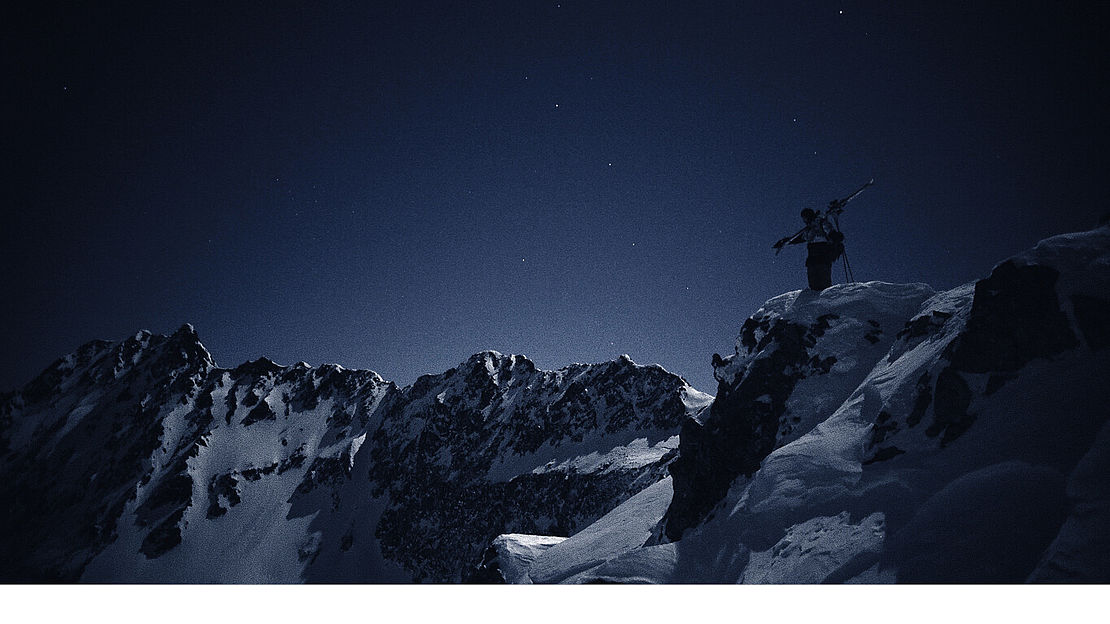 10/2019 // Jochen Mesle
FULL MOON - 10 tips for a full moon ski tour
Tips from Jochen Mesle & Max Kroneck
Full moon skiing is a very special experience. The pictures might inspire you to try it out for yourself. We asked Jochen and Max what to consider. Here are ten tips for your first full moon adventure:

1. Check the lunar calendar and the weather. No moon, no light. You have to choose a really clear night, because already with a little cloud cover you can't see a thing without a headlight. We have noticed that two days before and after full moon, there is still enough light for a tour.

2. The headlamp should always be in your pocket as a backup. Especially when clouds come up or you move in the shade, you should have the possibility to switch on the light.

3. Pack enough warm clothes, because if you don't move anymore it will get unpleasantly cold. A down jacket or Primaloft should definitely be in your backpack.

4. The shadows wander much faster at night than during the day and can lie in other expositions. In a full moon night, the moon rises exactly at the same time as the sun sets, but at the opposite direction. So the slopes that lie in the sun during the day can lie in the shade at night. Choose the slopes with a safe light, because you really can't see any contours or obstacles in the snow in the shade.

5. In the darkness, spatial dimensions are difficult to estimate. Sometimes, everything looks very small and close, other times it looks much bigger or further away than expected. So you should know the area very well and have already been there during the day to look at the slopes.

6. If you have the possibility, pack a camera with strong light, because the camera of a mobile phone won't see much in such low light. If you can't take a camera with you, it's also no problem. Saves the pictures simply in your head and enjoys the peace and quiet in the mountains.

7. Very important: You have to avoid quiet zones and driving in the forest - the animals also need rest. You should be above the tree line. It's not a bad idea to be near a ski resort, but there are clear rules. At night, the piste machines work, often also on the rope. Therefore, it is an absolute no-go to be on the slopes and put yourself in danger.

8. Try to get enough sleep beforehand. The body is not used to working at night. You will be surprised how much energy you need for a night ski tour. Take a few snacks with you and use your powers wisely.

9. Ride slowly and safely. Stones, crests and snow conditions are hard to estimate. This is not about testing your limits, but about enjoying nature and experiencing the mountains in a completely different mood.

10. Pack a teapot, take a break and enjoy the peace and quiet!