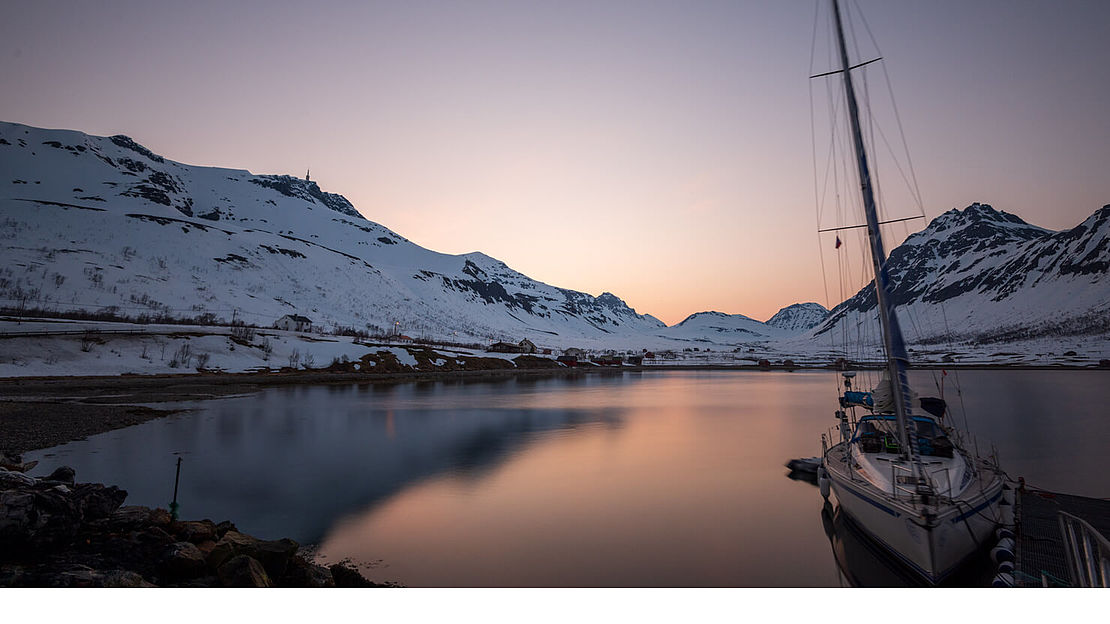 09/2019 // Felix Wiemers
Sail and Summit – With the sailboat to the summit
By Felix Wiemers
Sail and Summit is a matter close to my heart. My wife Lotta and I wanted to find a way to connect our passions: Sailing and skiing. Lotta was a member of the national sailing team and her favourite sport is unfortunately not very practical in the Alps. That's why we went looking for a place where both sailing and skiing are possible. We quickly found what we were looking for: It was supposed to be Norway. Here you will find beautiful mountains right by the sea and the journey is not too long.
Off to Tromso
I have already made several trips to Norway for ski touring, so I knew some of the areas around Tromso very well. Tromso is located north of the Arctic Circle and about seven hours drive north of the incredibly beautiful Lofoten Islands. From the sea you have even more chances for lonely summits - completely without the stress you have from normal starting points. In Norway it is always quite crowded with other ski tourers in April and May. But which skier has the possibility to use a boat?


The sails are set
With Lotta I have this opportunity, only the boat was still missing. On our first trip in 2018 we found a man who trusted us - and chartered us his boat for two weeks. Fortunately, because our time up there was overwhelming. Lotta and I decided that we had to continue with this project somehow. Just two months later we started a company and were able to buy a boat for our plans: VILMA. In a four-week trip in August 2018 we sailed the boat from Kiel to Tromso. A journey full of adventure and many new sailing experiences for me.... Finally we had our VILMA in Tromso and in April of this year we were able to offer our first ski and sailing trip for all those who were interested. Fortunately, our idea was very well liked, so that we were booked out pretty quickly. Sail and Summit was born. Why not only we love our "baby", I think, can be explained quite well with the pictures of our travels around Tromso. If you want to sail and ski with us, you should already think about the winter, because the places on the VILMA are limited.
Further information about Sail and Summit can be found on our homepage www.sailandsummit.de. Who wants to join us? Who sails with us around the summits of Tromso, always on the lookout for first lines?